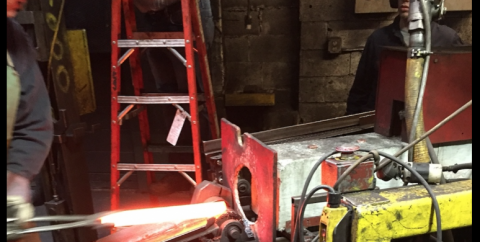 We welcome the opportunity to assist you in solving your challenging applications of thermography for:

• Temperature Measurement for Process Control
• Thermal Anomalies in Materials and Buildings
• Expert Witness in Thermal Analysis

Our Consulting Engineering Services cover a wide range of applications. In essence, we help you understand and measure the temperatures of your products and processes. Accurate temperature measurement is essential in nearly every manufacturing process.

In metal forming, the metallurgical properties of the product are highly dependent on obtaining the right temperature of the metal in the forming process. We have several decades of experience in working with foundries to replace immersion thermocouples with infrared measurement. We have guided forging customers to ensure the proper billet temperatures from induction heating systems and have helped design and commission sophisticated measurement systems for measuring aluminum, copper, galvanized or galvannealed steel, and other materials.
------------
Consulting Engineering perspective and example from Terry Clausing...

How does one describe "Consulting Engineering Services"? In essence, consulting is about solving problems, and it is often as much about knowing what does not work, as what does work...ahhh, the value of experience.
In manufacturing processes, the most frequently measured physical parameters are time, temperature, and pressure. But accurate measurement of these parameters is often challenging. Let us consider manufacturing steel tubing.

In this case the steel tubing is formed by a welding process and is then heat treated by passing through an induction coil to relieve stresses and produce the needed specific metallurgical properties... but the tubing is small diameter and hot and moving.
Instead of trying to focus on a specific small target on the bouncing tubing. I described how to take advantage of the bouncing target by implementing an optical scanner and temperature signal peak picker for greatly improved temperature measurement.

The optical scanner consists of a precision oscillating mirror mechanism that enables the infrared temperature sensor's targeted field of view to sweep back and forth over the diameter of the moving tube. Each time the field of view sweeps across the tube, it captures a new peak temperature reading. These temperature signal peaks are then averaged to produce a smooth and accurate temperature reading of the steel tube thus enabling excellent process control for the heat-treating process and producing a higher quality tube.
Consulting Engineering ia all about solving problems.
L Terry Clausing, PE
------------
In fact, we have experience in more than metal measurement. Temperature is critical in plastics forming, food processing, glass forming, and we are finding new applications on a regular basis.

In addition to basic measurement of temperature, we also support sophisticated thermal techniques for nondestructive testing such as thermal wave analysis of composite materials in aviation, and thermal analysis for medical thermology. The newest fields of interest utilize UAVs for infrared inspection of facilities.

For your consulting requirements please contact:
Terry Clausing
513.739.2317
terry@drysdaleassoc.com